4 interest-free payments of $124.75.
Get the benefits of an infrared sauna from the comfort of home.
Calm your mind and experience that post-sauna high.*

Boost muscle recovery with deep penetrating infrared heat.*
30 Day Risk-Free Trial
Try your sauna with peace of mind.
Type of Infrared: FAR infrared
Size of Blanket: 180cm long, max height recommended is 196cm
Maximum Weight Capacity: 150kg
Materials: PU leather exterior, waterproof inside & non-toxic fabrics
Electrical Certification: CE approved
1x infrared sauna blanket

1x controller

1x sauna carry bag
Please Note: Due to high demand, all sauna blankets will be shipped in late February.
How Do You Clean The Blanket?
Cleaning is as simple as cleaning your yoga mat. Lay the blanket flat and wipe down with a towel to remove the sweat. We recommend finishing with a spritz of natural cleaning spray.
How Does MiHIGH Differ From A Regular Infrared Sauna?
Your MiHIGH blanket uses the same heating technology as an infrared sauna, emitting far infrared wavelengths. The experience is much the same, but the MiHIGH does it all from the comfort of your home,
Experience Benefits From Your Very First Session
FAR infrared heat can provide a wide range of benefits in just one treatment.
Recovery*

Clearer skin*

Better sleep*

Calorie burn*

Detoxification*

Reduce stress*
*These statements have not been evaluated by the Food and Drug Administration. This product is not intended to diagnose, treat, cure, or prevent any disease.
---
It's Never Been Easier To Sauna - How To Use Your MiHIGH


1. Lay It Out
Take your MiHIGH out of its carry bag and roll it onto a comfortable surface, like your bed. Use the handheld controller to start heating your blanket.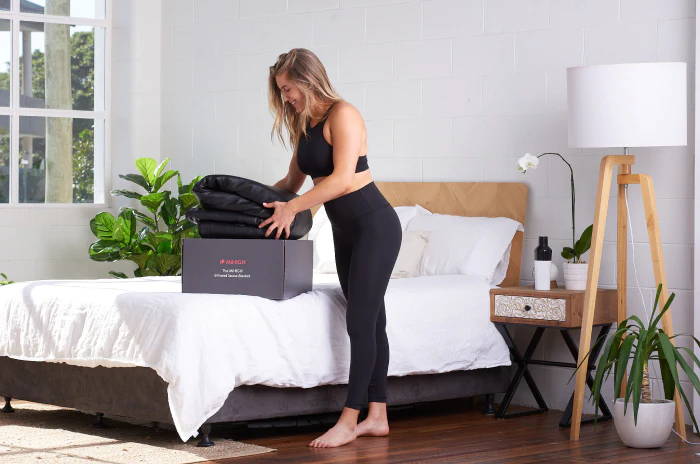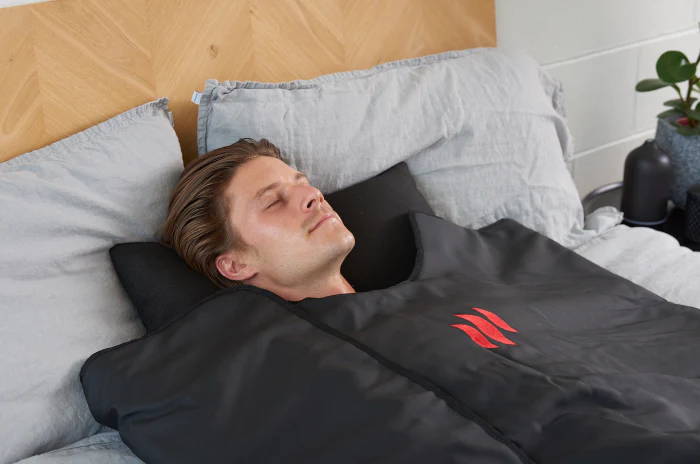 2. Feel The Heat
Spend 30-60 mins relaxing inside your blanket. FAR infrared heat will penetrate deeply to deliver the sauna benefits.
3. Clean & Enjoy Your Post-Sauna High
Cleaning your MiHIGH blanket takes just 30 seconds - simply wipe down the waterproof interior with a cloth & spray. Now you're ready to take on the day, or slip into a blissful sleep.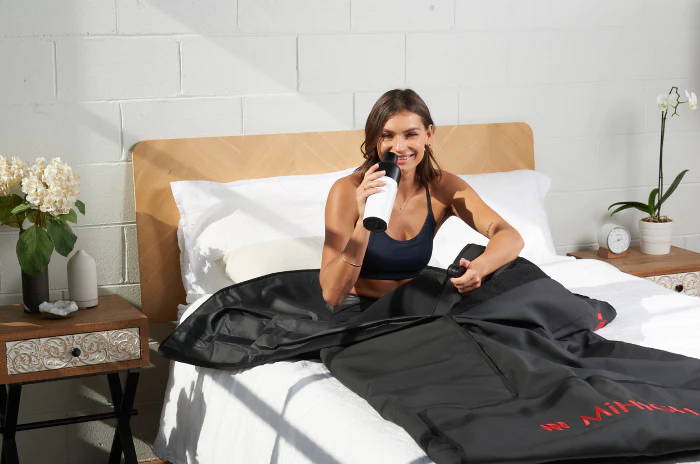 ---
"MiHIGH uses invisible wavelengths of light to create warmth, credited with boosting circulation and calorie burn. Who wouldn't want one?"

"The benefits of an infrared sauna are manyfold. MiHIGH's innovative Infrared Sauna Blanket brings the sauna into your own home."
"You can now get the detoxifying, calorie burning and soothing health benefits of a sauna from the comfort of your own home."

The Science of Your New Infrared Sauna Blanket
Our blankets are built with layers of infrared heating and toxin-free fabrics to give you the ultimate detox at home.
---
See Why Thousands Choose Sauna Blankets Over The Traditional Box Sauna

Infrared sauna blanket vs. a traditional box infrared sauna.
| | | |
| --- | --- | --- |
| | | |
| | MiHIGH Infrared Sauna Blanket | |
| | | |
| | | |
| | | |
| | | |
| | | |
| | | |